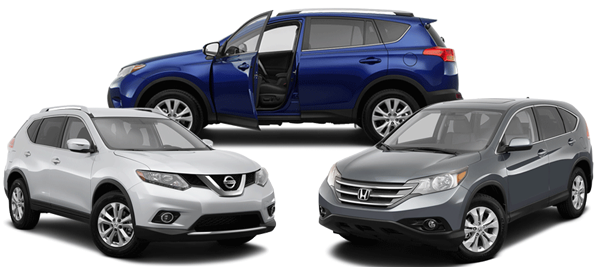 Big Savings on Used SUVs in
Marion

,

IL

If you're shopping for an SUV, you're already well aware that you have lots of options. And while that's a good thing, it also makes your task of finding the one that's perfect for you a little more challenging.

It can be helpful to focus your attention first on the thing that's most important to you. Is price your bottom line? If so, consider a used SUV.

Ike Honda has a remarkable selection of high-quality used SUVs for you to explore. These vehicles have been thoroughly inspected for quality and come with some incredible savings attached. Whether you're seeking a late-model SUV packed with cutting-edge technology or an older model that features exceptional value, you'll find many great vehicles among our used SUV selection.
Used SUV Savings Near Carbondale, IL
At Ike Honda, we strive to maintain a large and diverse selection of used SUVs. We know how popular these vehicles are, and while our used vehicles sell fast, there are always more on the way. Browse our pre-owned inventory any day of the week and you can find hot sellers from popular brands like Nissan, Toyota, Buick, and - of course - Honda.
Among our used SUV selection, you can find luxury-grade SUVs packed with all the features and amenities you could want. You'll see tough and rugged off-roaders designed for adventures off the beaten path. And there are models that strike a perfect balance.
One thing is for sure: When you buy your used SUV from Ike Honda, you're going to be getting an  incredible deal. It's all part of our commitment to giving our valued customers the most rewarding dealership experience they've ever had.
Used SUV Deals at Ike Honda
Don't wait another day to discover your ultimate used SUV at Ike Honda! We are conveniently located for drivers in and around Marion and Carbondale, IL, and when you arrive, our friendly associates will be on hand to show you what we have in store - and then tell you all about how much you can save!
We are committed to making your car buying experience as easy and enjoyable as it can be. We do that for our customers every day through our selection, savings, and service.  Stop by today and find the used SUV you've been searching for!