Reliable Tire Care Center in Marion, IL
Tire care is one of the most important parts of car maintenance. Tires impact all kinds of areas of your vehicle, from performance to efficiency and safety. Unfortunately, it's also one of the areas that are too commonly overlooked. Too many people wait until they experience a flat tire to consider the condition of their tires. Some drive along unaware of the impacts that worn-down tires are having on their vehicle.
To fix this, bring your vehicle into Ike Honda. We offer a range of tire care services that are designed to keep your vehicle in the best condition possible. Our tire care services are fast and affordable, designed to impact your life as little as possible. Below are some tire car services we offer, along with why you should only trust your tire care to a local dealership like Ike Honda.
Tire Rotation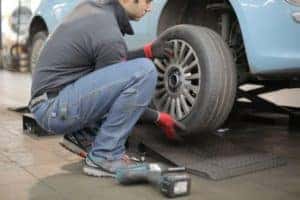 Image used with permission from Pexels by Andrea Picquadio
As you drive your car, the tires slowly wear down over time. However, they do not wear down at the same rate. For example, the tires on the driver's side may wear down faster due to the increased weight, especially if you don't regularly have passengers. When tires wear down, they are more likely to break and deliver poor performance. Taking your car in for a tire rotation service allows your tires to wear down more evenly.
During a tire rotation service, we swap the position of your tires on your Honda vehicle and move them into the optimal position. The car can then apply more pressure on the part of the tire that isn't as worn down yet and relieve some of the pressure on the worn-down part. By allowing your tires to wear down more evenly, you help extend their lifespan. This means you won't have to replace the tires as often, saving you money in the long run.
Tire Balancing
Tire balancing helps to give your vehicle a smooth ride. During the production process, tires can receive small imperfections in mass distribution. These imperfections are unique to each tire and can cause vibrations at high speeds. To eliminate this, the installer uses small metal clips that attach to the rim. Using a spinning machine, the installer moves the metal clips around until the tire no longer vibrates.
As you drive, your tires wear down and the metal clips can shift around. If you are noticing vibrations while driving, especially over 50 mph, tires with an imbalance as a common cause. Bringing your Honda vehicle in for a tire balancing service allows us to readjust the metal weights and give your vehicle a smoother ride. It's an affordable service that ensures a more enjoyable and safer ride. Tire balancing also helps to extend the life of your tires, so you should bring your vehicle in for service as soon as you start to detect that vibration.
Tire Replacement
While modern-day tires are made to last a long time, there will likely come a time when you need to replace one or more tires on your Honda vehicle. Whether you just experienced a flat tire or the tread on your tires has worn down too far, when you need new tires, be sure to bring your vehicle to Ike Honda.
Driving on worn-down tires not only gives you an unpleasant driving experience, it's also less efficient and less safe. You are likely to be wasting extra money on gas and putting yourself at risk, especially when it comes to driving in bad weather. We here at Ike Honda can replace your tires in no time at all, getting you back on the road before you know it. We'll help you find the best tires for your Honda vehicle and your budget, then install them for you.
General Tire Care
Whatever type of service you may need regarding your tires, we are here to help. Bring your vehicle into Ike Honda and we'll perform a full inspection of your vehicle's tires. We can then advise you on the best solution to your problem. Whether you're experiencing vibrations, think you have a nail in your tire, or are unsure of what the issue might be, we are here to help.
We can also provide you with tips on how to best care for your tires. When taken care of properly, tires can last a long time and provide excellent efficiency for your Honda vehicle. Schedule a visit with us today to learn more about general tire care.
Importance of Leaving Tire Care to Your Local Honda Dealership
When you need help with the tires on your Honda vehicle, don't leave it to just anyone. You want to bring your vehicle to the service center of a certified Honda dealership, like Ike Honda, for a few reasons. First, we have the best tires for Honda vehicles in stock at our parts department. Getting tires that are specifically designed for your Honda model ensures the best performance and we know exactly what type of tire you need.
Second, as a Honda dealership, we know what types of problems Honda vehicles are likely to face. If you bring in your vehicle suspecting an issue with your tires, we can determine whether this is the case or something else entirely. With our expertise in Honda vehicles, we are best suited to identifying problems and ensuring you get the best solution. This saves you both money and time over visiting another auto shop.
As a local dealership, we care about the customers who bring their vehicles to us. Giving you the best tire service means making your Honda vehicle safer to drive, which is a benefit to us all.
To learn more about our tire services, please feel free to contact our service center today. You can then ask us any questions you may have or schedule a time to bring your vehicle to us. Whether you know what you want already, such as a tire rotation or tire replacement service, or you're unsure of what you need, we are here to help.