The popularity of Honda SUVs continues to rise. With so many features you love and ongoing improvement in efficiency, Honda SUVs are an excellent choice for the daily commute or your next family road trip. Whether you need a compact crossover or a mid-size SUV, Honda has you covered with an array of different SUVs that are sure to suit your needs. Visit your local Honda dealership for more information and find the SUV that is right for you.
New Honda SUV for Sale in Marion, IL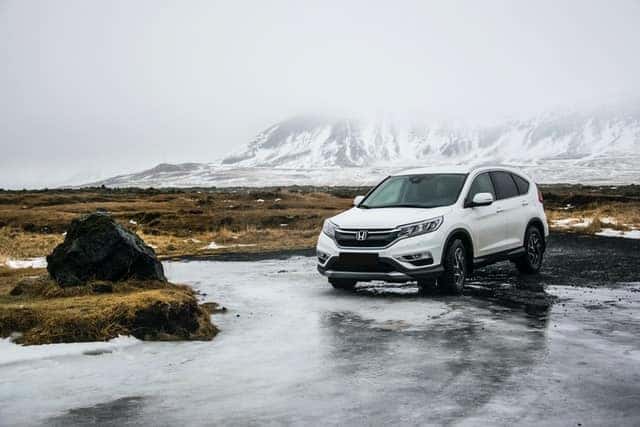 If you're shopping the automotive market for a new Honda SUV for sale in Marion or the surrounding area, Ike Honda has an exceptional selection for you to browse online or in person. Not only will you find the best Honda SUV offers, but you will find the best sales and customer service experience. Our friendly sales team is here to address all of your questions concerning new Honda SUVs. So contact us or visit Ike Honda today to explore the Honda SUV lineup and take the vehicle of your choice for a test drive.
Why Buy an SUV?
Sport utility vehicles (SUVs) are built with versatility in mind. They provide ample passenger space, cargo space, and flexible seating. If you are looking for an exceptional vehicle capable of hauling your entire family, carrying all of your gear, and taking you off the beaten path, there's no better choice than an SUV. SUVs are more capable than most other vehicles and easily fit your lifestyle.
A Honda SUV makes for the perfect vehicle when you have small children, with plenty of room for all you need to carry. You have room for a stroller, a diaper bag, extra clothes (for you and the baby), and anything else you may need when going for a walk in one of the many parks located in Marion. If your children are older and associated with Marion Youth Sports, a Honda SUV is an excellent choice with room for the whole family, sports gear, and spectator gear.
If you have a more active lifestyle, Marion and the surrounding area have many hiking destinations you will love. With your Honda SUV, you can carry all the hiking and backpacking gear you need for the trip. You can also take your Honda SUV for a camping trip: Many Honda models have excellent off-road capability, which helps you find the perfect camping destination.
Going out for a day of shopping? With flexible seating and cargo space in your Honda SUV, you'll have room for all the treasures you find. On the other hand, maybe a casual day and evening with family or friends in downtown Marion is more your speed. If so, you can easily load all of your passengers into your vehicle and do a little urban exploring to find unique shops, historic locations, and fine dining.
Available Honda SUV Models
There are several Honda SUV models for you to consider at Ike Honda. Each SUV in the Honda lineup is loaded with all the Honda features you know and love.
Honda HR-V
Coming in as the smallest of the Honda SUV lineup, the HR-V is a crossover that leans more on the side of efficiency. It has responsive handling, a functional interior, and a comfortable ride, all for a reasonable price. Though small, the Honda HR-V has ample room for passengers and cargo. You will find over 23 cubic feet of cargo space behind the second row, and there's over 57 cubic feet of space available with the second row down.
Honda CR-V
The Honda CR-V is possibly the most popular Honda SUV ever built. This versatile crossover has all the features you could ask for in such a small package. The CR-V is efficient and offers plenty of interior space. Along with its standard safety features, there's also a hybrid option for eco-conscious drivers. In addition, the CR-V's available all-wheel-drive makes it more competent when driving in inclement weather conditions. One of the CR-V's best virtues is its front and rear legroom. Front passengers can enjoy over 41 inches of legroom, while the rear passengers can stretch out with over 40 inches of legroom.
Honda Pilot
Honda's number one mid-size SUV is the Honda Pilot. This SUV boasts an excellently designed interior space, a powerful engine, and many optional features. The Pilot's engine is a 3.5-liter V-6 that generates 280 horsepower.
When equipped with the available Honda towing package, the Pilot can tow up to 5,000 pounds. The Pilot is Honda's largest SUV, providing more room for passengers and cargo. There's room for all your gear with over 16 cubic feet behind the third row. When the third row is down, over 46 cubic feet are behind the second row. There are over 83 cubic feet of space available with the second and third rows down.
Honda Passport
Even though the Honda Passport isn't the only Honda SUV with all-wheel-drive, it's one of the best off-road SUVs that Honda makes. The Passport can take you farther off the beaten path with excellent power and over eight inches of ground clearance. So if you love the outdoors and enjoy camping, fishing, and hiking, the Honda Passport may be the SUV for you.
The Passport's 280 horsepower, 3.5-liter V-6 engine gives it substantial power, while off-road driving modes give you options for the terrain you cover. These modes include sand, snow, and mud. Each off-road drive mode changes the Passport's traction control settings and the powertrain's response.
Why Buy Honda?
Hondas are built to stand the test of time and offer the best automotive technology, versatility, reliability, and efficiency. Honda SUVs offer luxury, comfort, and convenience that are sure to fit with your lifestyle. If you want on-road refinement or off-road capability, you can't go wrong with one of Honda's impressive SUVs. Reach out to our team with any questions: We're excited to match you with your perfect vehicle today.