2023 Honda Civic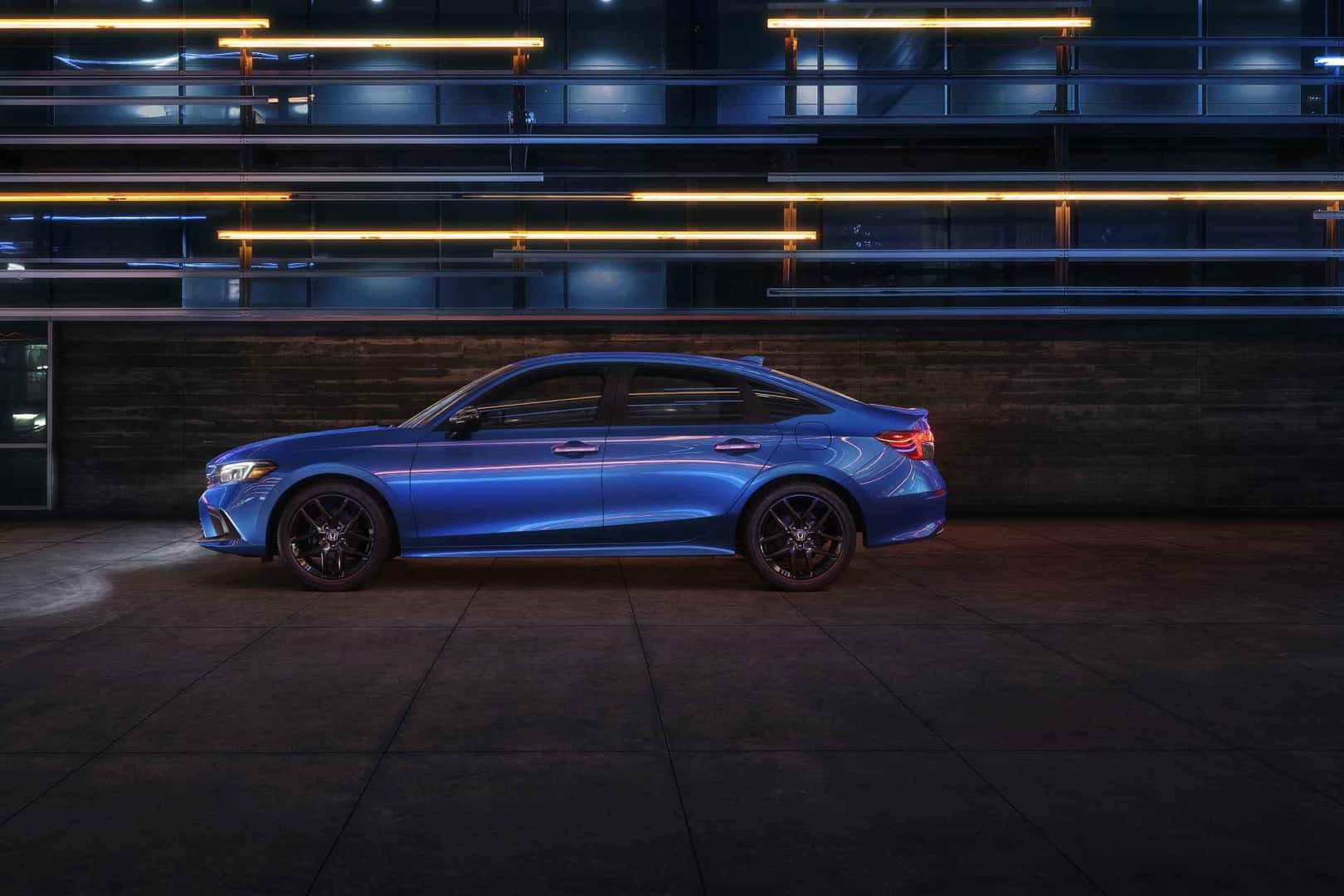 The Honda Civic is one of Honda's most popular vehicles, and for good reason. Year after year, this model delivers excellent performance, great fuel efficiency, and a safe driving experience. The new Honda Civic is no exception, with Honda adding even more features to make this model its best. Below, we'll highlight some of the key features of the 2023 Honda Civic to help you decide if it's the right car for you.
Trim Levels
There are three trim options to choose from with the 2023 Civic:
2023 Honda Civic Sport
The 2023 Honda Civic Sport is the base model of the 2023 Honda Civic. However, even though it's the base model, it still has many standard features you're sure to love. If you're looking for an affordable sedan that includes features like advanced safety technology and strong performance, this is the perfect model to consider. Considering the wide range of standard features included in the Sport trim, it's hard to find a better value anywhere else.
2023 Honda Civic EX
The next trim level is the 2023 Honda Civic EX. This trim improves upon the 2023 Honda Civic Sport by adding features like heated front seats, 17-inch alloy wheels, a blind-spot monitoring system, and improved fuel efficiency. The 2023 Honda Civic EX also features a stronger engine, delivering more powerful performance. It's only a small increase in price compared to the 2023 Honda Civic Sport, making it ideal for anyone who wants a few extra amenities in their new car.
2023 Honda Civic Touring
The best version of the 2023 Honda Civic is the 2023 Honda Civic Touring. Some features you can expect with this trim level include leather-trimmed seats, a premium Bose audio system, a cross-traffic monitoring system, and an automatic-dimming rearview mirror. This is just a small sample of the new features included with the 2023 Honda Civic Touring. If you're interested in the best 2023 Honda Civic offers, you should explore this trim level in more detail.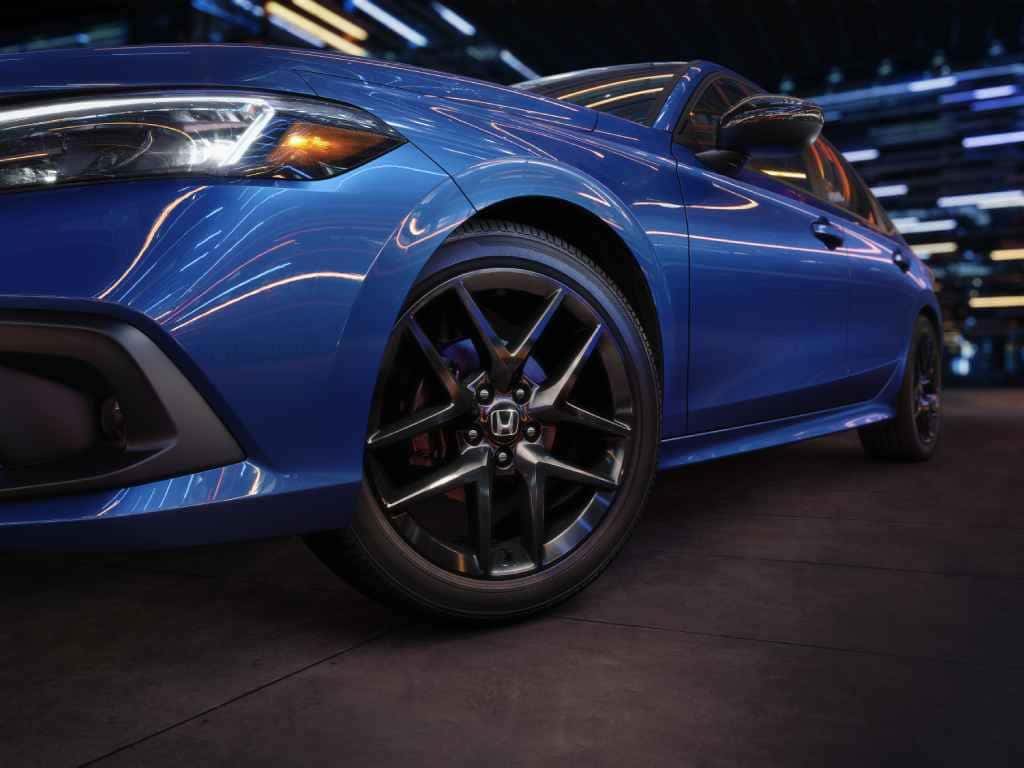 Exterior Design
The 2023 Honda Civic is an affordable sedan that looks more like a luxury car. The 2023 Civic introduces some new exterior flourishes, making this year's version look better than ever. There are eight exterior colors, including Aegean Blue Metallic, Crystal Black Pearl, Lunar Silver Metallic, Platinum White Pearl, and Rallye Red. It's hard to do the exterior of the 2023 Honda Civic justice in writing, so schedule a visit to see it in person to truly understand how great this vehicle looks.
Interior Features
The 2023 Honda Civic interior features a streamlined and clean design. One of the first things you'll notice is the honeycomb-patterned mesh design that extends across the entire dashboard, resulting in a simple and elegant look. Once you sit down, you'll immediately notice the comfortable seats and the ample passenger space. On more premium trims, you can get these seats heated and with leather trim. Some other interior features that help the 2023 Honda Civic stand out are its dual-zone automatic climate control and a power sunroof.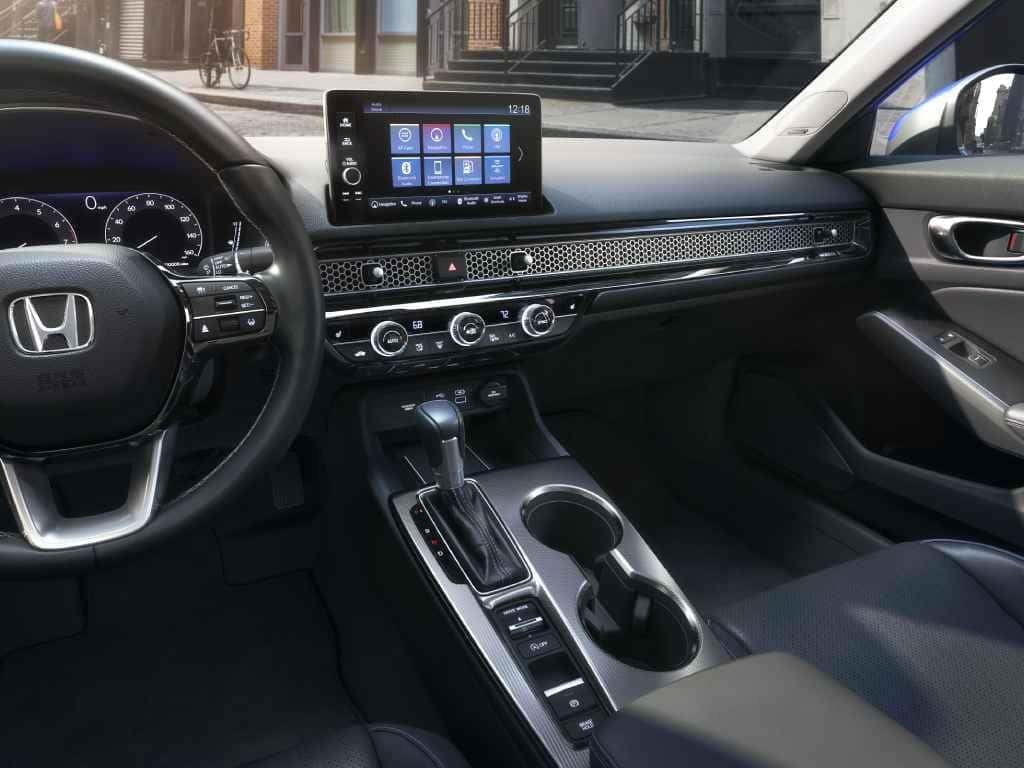 Power and Performance
The 2023 Honda Civic delivers strong performance despite its relatively affordable price. This is thanks in large part to the base engine, which is a 2.0-liter four-cylinder that delivers 158 horsepower. For even better performance, you can upgrade to the turbocharged engine, which has an output of 180 horsepower. These engines, combined with a continuously variable transmission, resulting in a smooth performance both in the city and on the highway.
As for fuel efficiency, each trim level delivers excellent results. If you want the best fuel efficiency that the 2023 Honda Civic offers, you should explore the EX trim, as this earned EPA ratings of 33 mpg1 in the city and 42 mpg 1 on the highway. With gas prices always fluctuating, it's important to get a great vehicle on gas, and the 2023 Honda Civic delivers in that regard.
1: 30 city/37 highway/33 combined mpg rating for Sport. 33 city/42 highway/36 combined mpg rating for EX. 31 city/38 highway/34 combined mpg rating for Touring. Based on 2023 EPA mileage ratings. Use for comparison purposes only. Your mileage will vary depending on how you drive and maintain your vehicle, driving conditions, and other factors.
Technology
The joy of driving the 2023 Honda Civic comes from more than just the powertrain and comfortable seats. At the center of the dashboard, you'll find an infotainment touch-screen display. The standard option is 7 inches, but the upper trim levels come with a 9-inch unit. Regardless of the size, you can use this touch screen to control your media while you drive, especially if you take advantage of the built-in Apple CarPlay and Android Auto technologies. Other possible upgrades include an in-dash navigation system and a Bose stereo system, making the 2023 Honda Civic even more fun to drive.
Safety Features
If you're looking for a vehicle that can help keep you safe while you're on the road, look no further than the 2023 Honda Civic. The base model comes with a wide range of safety technologies, with the more premium trims adding even more features. Some of the standard safety features in the 2023 Civic include:
Automated emergency braking with pedestrian detection
Lane-departure warning
Lane-keeping assist
Adaptive cruise control
Other available features you might like include blind-spot monitoring and heated exterior mirrors. Regardless of which Civic model you select, you can rest easy knowing you're driving one of the safest cars.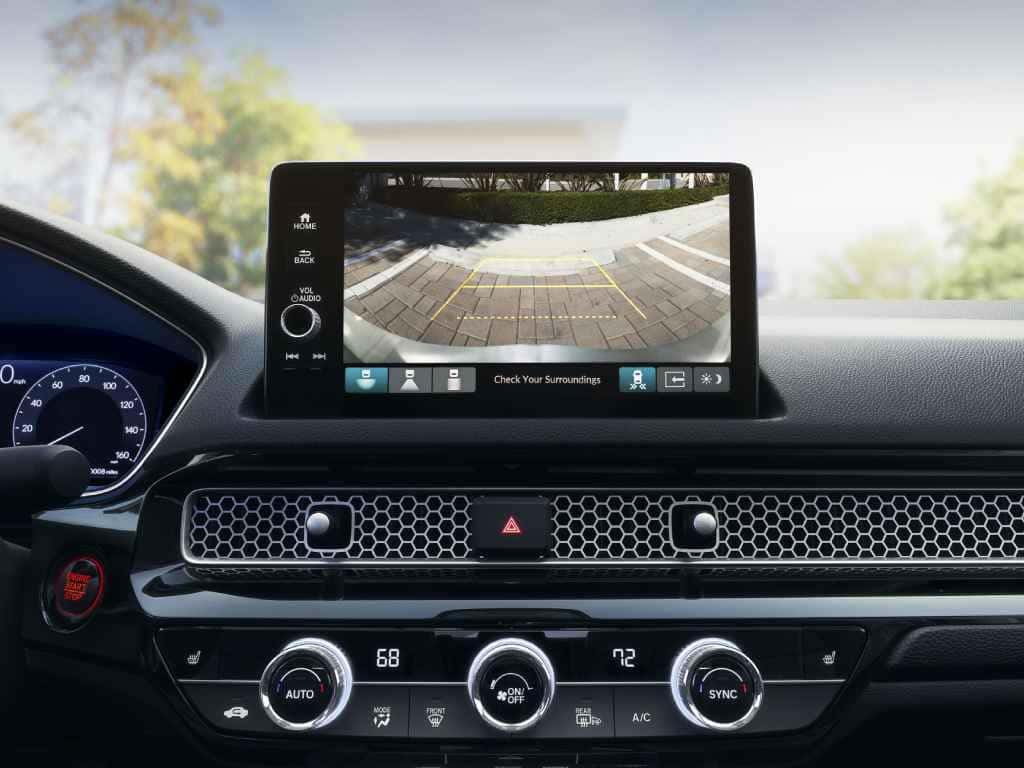 Learn More About the 2023 Honda Civic
If you're interested in the 2023 Honda Civic, Ike Honda is here to assist you. Whether you're looking to buy or get a Honda Civic lease, our team can help you find a plan that works for you. Get started today by browsing through our current inventory of new vehicles or checking out our latest Honda offers and Honda incentives. To save yourself some time at the dealership, also be sure to apply for financing online or use our trade-in evaluation tool. Then, once you're ready, contact us to schedule a visit to our dealership. We'll take you out for a test drive to ensure the 2023 Honda Civic is right for you, and if you love it, we'll get you on the road with your new vehicle before you know it.