Honda TrailSport Trim Line
Car buyers are increasingly attracted to off-road vehicles for their trail capability, styling, and raw power. If the TrailSport trim line is anything to go by, Honda isn't about to be left behind. At Ike Honda, we'll have this all-new Honda SUV trim line at our Marion, Illinois, dealership by the end of the year. Contact our team today to reserve your Honda Trailsport model.
Honda TrailSport Overview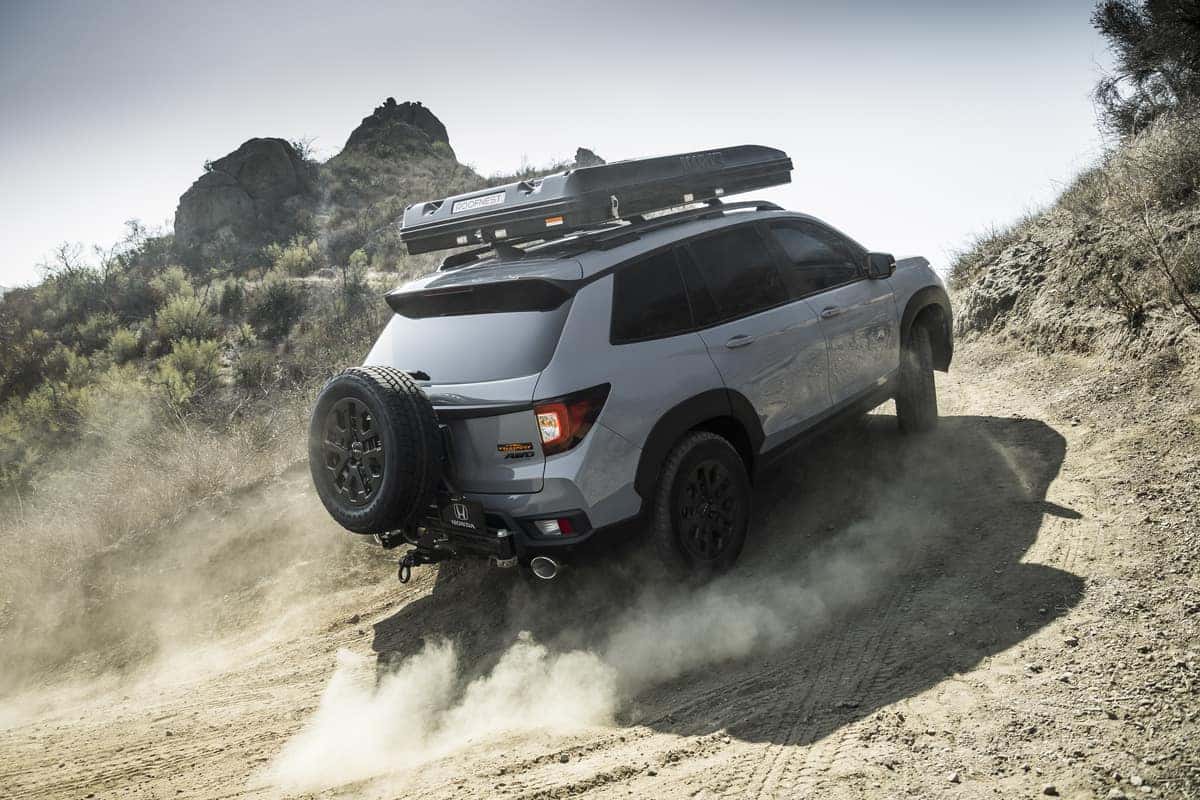 Thanks to Honda's all-new trim line, off-roading just got a lot cooler. When launching the TrailSport trim line, Honda announced it will primarily be a styling package for its existing SUV lineup. Honda's TrailSport vehicles will feature rugged rear and front styling, tough cladding, and high-end interior styling features such as bright orange stitching on the seats and steering wheel.
Over time, capability upgrades will follow these style elements to enhance your off-road driving experience. Honda cars that feature the TrailSport badge will get capability upgrades such as improved ground clearance, more aggressive tires, skid plates, enhanced all-wheel drive, and off-road-tuned suspension systems.
Which Honda models will get the TrailSport trim?
Although details regarding the Honda models that will get the TrailSport trim are minimal, eligible vehicles under its "light truck" designation include the:
HR-V
CR-V
Passport
Pilot
Odyssey
Ridgeline
The Passport and Ridgeline will likely get the TrailSport trim line first, followed by other models.
What's the motivation behind the TrailSport trim line?
Historically, Honda's core appeal has been primarily on performance and practicality rather than off-road power. However, that's about to change, thanks to the TrailSport trim line. Honda SUVs and trucks with the designation promise to handle well both on the highway and the rugged trails of the Orchard National Wildlife Refuge. They'll meet buyers' needs for vehicles that are both reliable and durable.
The automaker's decision to launch the TrailSport trim line sweetens the deal for Honda enthusiasts who have for years been clamoring for an off-road vehicle with a rugged appearance and performance. In the case of the Ridgeline truck, the enhanced capability of the TrailSport trim line will put it on par with competitors.
Getting into the off-road-focused trim game
When it comes to off-roading, Honda's dirt bikes and ATVs have traditionally been some of its most popular options. The TrailSport trim line promises to give Honda vehicles equal or better off-road competencies than rival brands.
What does the future hold for Honda?
Honda's TrailSport trim line has been touted as a rugged halo for the automaker's light trucks, and it's easy to see why. Gone are the days when Honda was synonymous with sedans, ATVs, and dirt bikes alone.
The TrailSport trim line's rollout will be gradual, applying first to specific models within the automaker's light truck lineup. As a result, the first TrailSport variants will only hit our dealership in Marion, Illinois, toward the end of the year. The more specialized TrailSport variants will roll out over time.
Reserve Your Honda TrailSport Today
Although it's been only a few weeks since Honda announced its TrailSport variants, the news has already sent shockwaves throughout the industry. So if you're a Honda enthusiast who wants to get your hands on a TrailSport model, reserve your unit today at Ike Honda. This is just the beginning of the automaker's off-road journey. Stay tuned, because we've got a lot in store.