2022 Honda Civic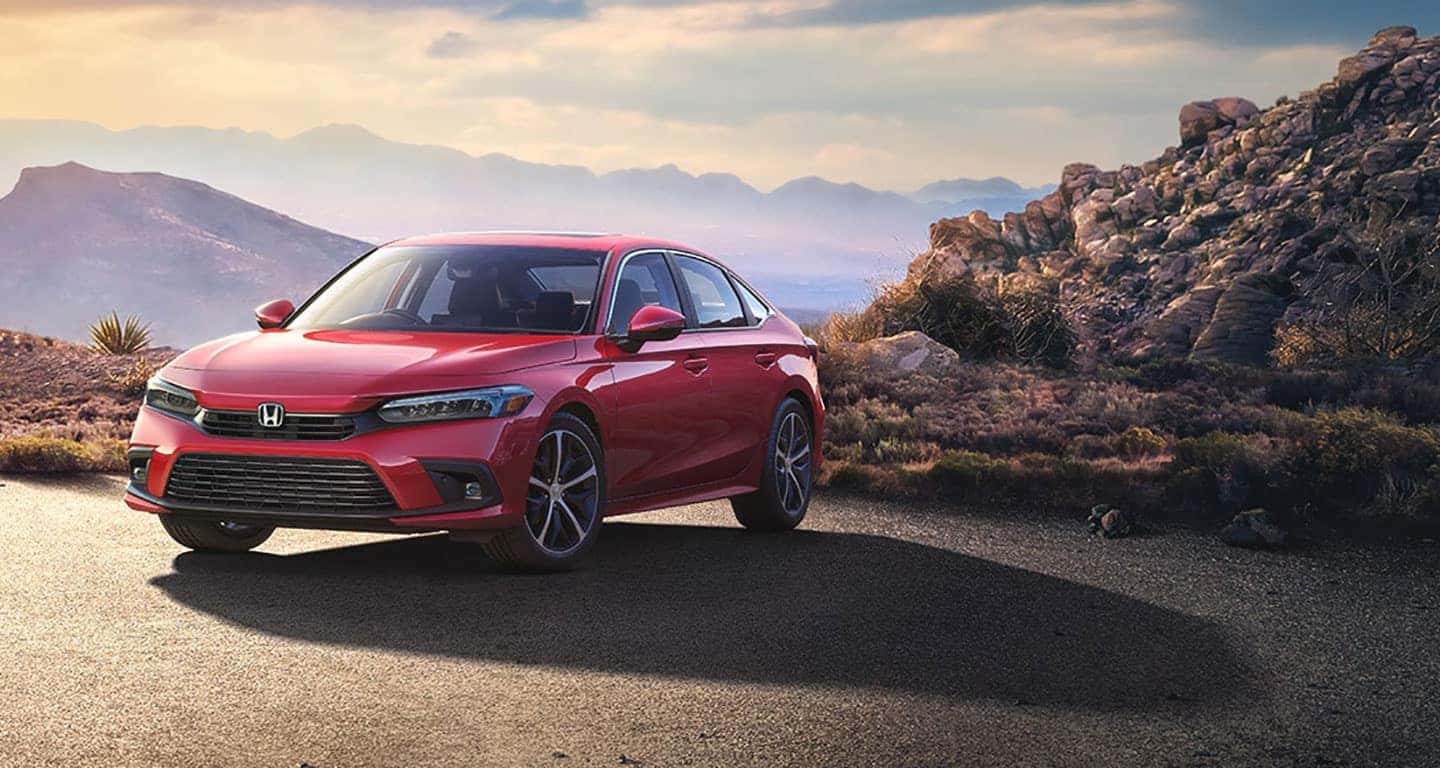 Year after year, the Honda Civic remains one of the most popular vehicles on the market, and the 2022 Honda Civic is shaping up to be no different than previous models. From comfortable rides to stylish looks and impressive performance, the 2022 Civic is once again a phenomenal option for anyone looking for a vehicle that performs as great as it looks. If you're interested in the 2022 Honda Civic, Ike Honda has everything you need to determine if it's the right vehicle for you. View our current Honda Civic offers, use our car payment calculator, and apply for auto financing online. Then stop in and take your dream vehicle for a spin.
2022 Honda Civic Trim Options
When shopping for a 2022 Honda Civic, you have four trim options to consider. Each trim has its own appeal and may provide the best option for you, depending on your needs and budget. If you're considering buying a new 2022 Honda Civic, these are the four trim options to choose from and the benefits and costs of each one.
LX
The Honda Civic LX is the most economical option of the four 2022 Honda Civic trim choices, but this doesn't mean the LX falls short on appeal. The LX has a lot to offer with adaptive cruise control, automatic climate control, and collision mitigation features.
Sport
The Sport trim for the 2022 Honda Civic does exactly what you would expect, providing a sportier appearance for your Honda Civic. Sport trims include 18-inch wheels, blacked-out trim on the exterior, and a sports operation mode. If you find the appeal of sporty cars alluring, the 2022 Honda Civic Sport may be the right choice for you.
EX
If performance is a premium for you, the 2022 Honda Civic EX is an excellent option. It features an enhanced 1.5-liter turbocharged engine and can provide that extra pop under the hood you're looking for. The EX also provides new feature options such as blind-spot monitoring to help keep you safe on the road.
Touring
The final trim option is the 2022 Honda Civic Touring which offers the most luxurious option of all the Honda Civic trims. In addition to features like rear cross-traffic alerts, the Touring features enhanced digital displays in the form of a 9-inch touch screen and a 10.2-in dashboard cluster. For a high-end option, you can't beat the 2022 Honda Civic touring.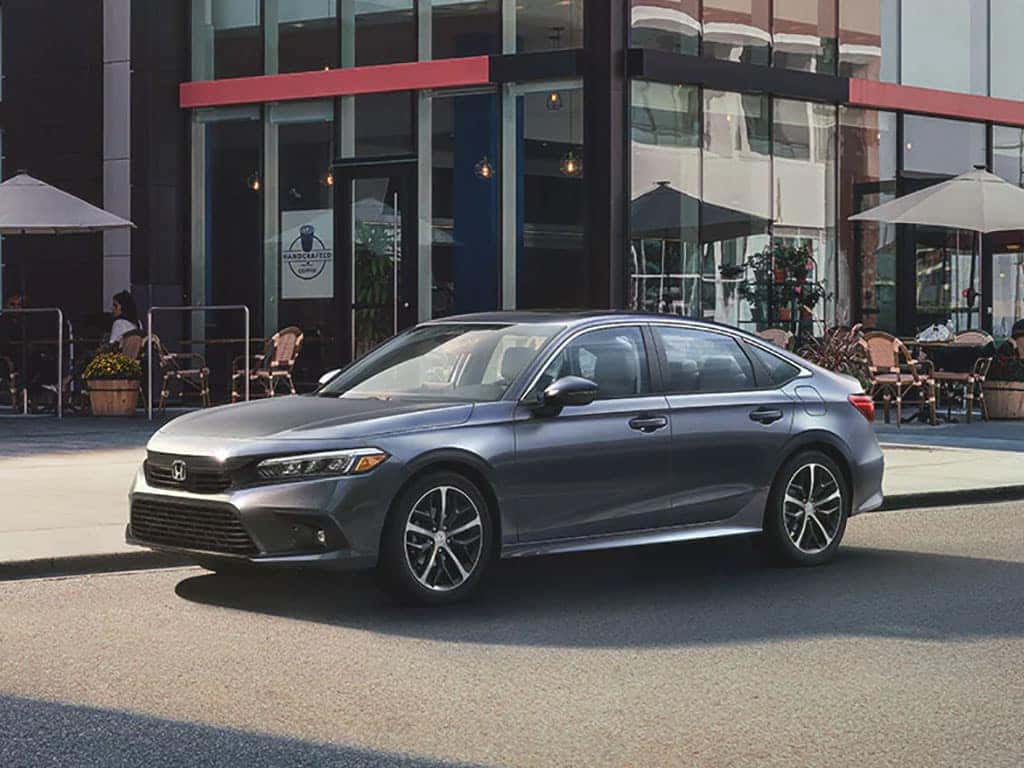 2022 Honda Civic Exterior Design
The Honda Civic is known as a sporty and attractive vehicle, and the 2022 edition is no different. Featuring sleek lines and a gently swooping hood, the Civic impresses once again. Optional 18-inch gloss black wheels and a chrome exhaust add to the visual appeal, while the standard LED headlights and rear lights don't just look great but provide added safety.
2022 Honda Civic Interior Features
The beautiful interior of the 2022 Honda Civic has a lot to offer car buyers. A leather-trimmed interior provides a stylish look that catches the eye and is comfortable, too. If you're taking a drive with your friends or family, you aren't the only one who benefits from the Civic's interior amenities. With rear passenger window shades, your passengers can keep the sun out of their eyes while you drive.
If you're loading your trunk up with cargo, organization is simple and effective in the 2022 Honda Civic. With trunk tray dividers to sort, and a cargo net to prevent items from sliding, you can easily carry all your gear.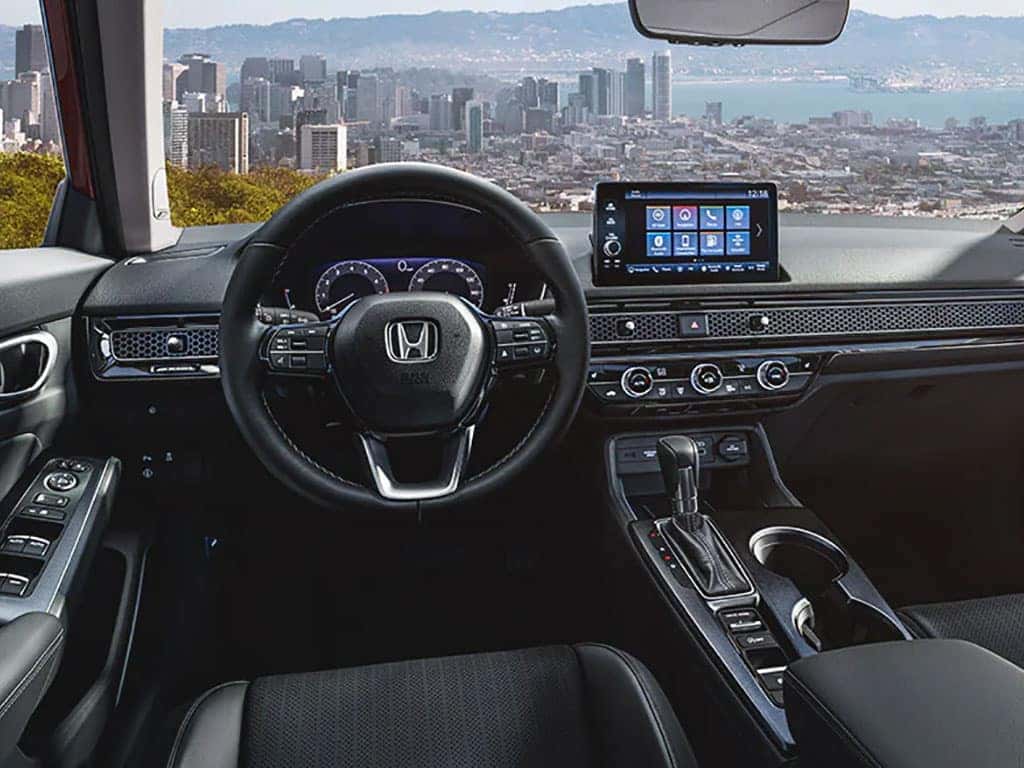 2022 Honda Civic Performance
With two different engine options available for the 2022 Honda Civic, the performance you receive from the engine under your hood can differ considerably. Both the LX and Sport trims feature a 2.0-liter, four-cylinder engine. This engine is capable of producing 158 horsepower and generating 138 pound-feet of torque.
Its more powerful alternative appears in the 2022 Honda Civic EX and 2022 Honda Civic Touring. With a 1.5-liter turbocharged engine under the hood, Civics with this configuration generate 180 horsepower and up to 177 pound-feet of torque.
2022 Honda Civic Technology
Technology is key in the modern world, and the inside of your 2022 Honda Civic proves that Honda can keep up. It features many pieces of technology to help make your drive happier and safer, like easy syncing with your phone to let you access its features without taking your eyes off the road, and HondaLink technology to maximize its capabilities. The built-in navigation is also available to help you get where you're going safely and by the fastest route.
2022 Honda Civic Safety Features
The designers at Honda understand that your and your passengers' safety is paramount when you go for a drive, and that's why the 2022 Honda Civic features a broad range of safety options to protect you and those around you. Adaptive cruise control automatically monitors the distance between you and the car in front of you, combines the information with your speed, and adjusts your speed to reach a safe distance. With blind-spot monitoring technology, your 2022 Honda Civic alerts you when there is a vehicle in your blind spot to avoid an accident.
The multi-angle rearview camera of the 2022 Honda Civic takes monitoring to a new level, with adjustable options to give you the best field of vision. The Civic adds to this with a rear cross-traffic alert to let you know when a person, pet, or vehicle approaches from behind to prevent you from backing out into the road and a potentially dangerous situation. Once you're parked, walk away auto lock allows you to simply walk away from your vehicle after parking, knowing the vehicle will lock automatically and unlock again when you approach later with your key fob.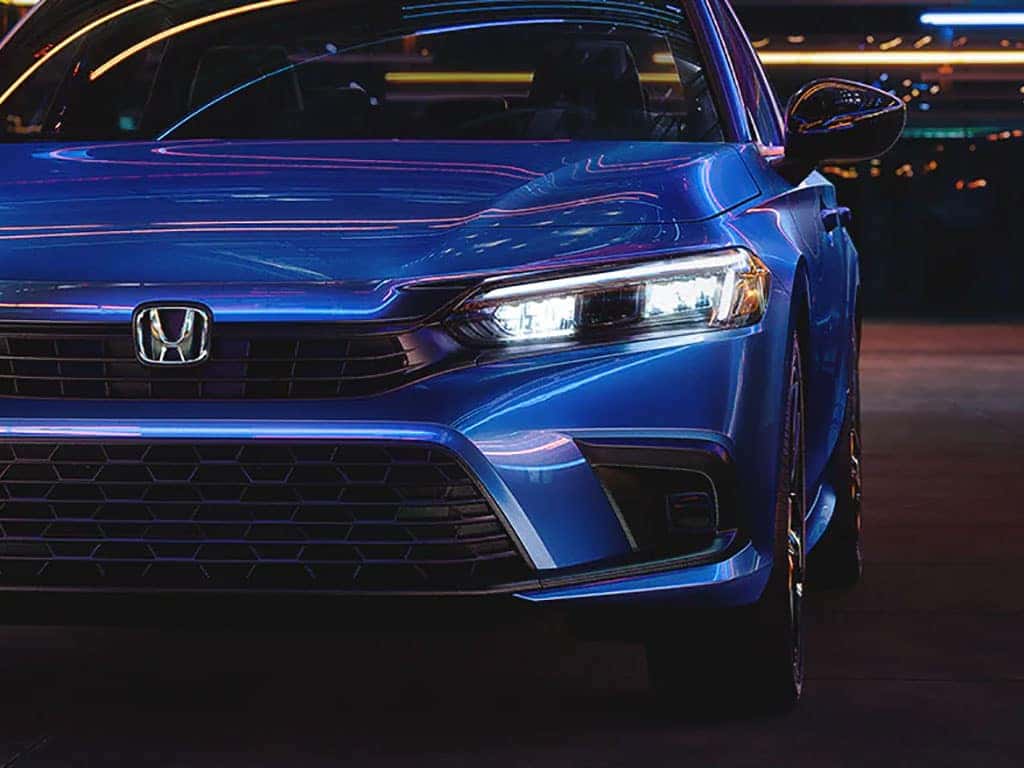 If you think the 2022 Honda Civic might be the car for you, we would love to help you find out for sure. Come out to Ike Honda to see us in person, or if you prefer speaking to a professional before seeing any of our Honda new cars or used vehicles, contact us to discuss your options. We'll be happy to let you try out the new 2022 Honda Civic and decide if it's the vehicle you've been waiting for.