2022 Honda Civic Preview
There's even more interest than usual around the Honda Civic this year, because it's gone through a full redesign for the 2022 edition. With some styling changes and a revamped cabin, you've got a lot of exciting new features to learn about. Our team of auto experts in Marion have taken a look at what the Civic sedan and hatchback models have to offer.
2022 Honda Civic Reviews and Release Date
Critics have been overwhelmingly positive in their reviews of the redesigned Civic, suggesting that this compact car will retain its proud record of being among the top three passenger cars sold in the US since 1973. They point to its continued class-leading position in nimble handling and responsive steering, together with its strong acceleration when equipped with the turbocharged engine. KBB notes that driver visibility has been improved thanks to several design changes.
The modernized cabin has also won praise, with new styling elements on the dash and piano black accents throughout the cabin. A large central console appears to be ideal for storing small items like keys or phones, or something to eat during a long road trip.US news and World Report describes the Civic's new cabin as providing "one of the nicest interiors in the segment."
If all this positivity is encouraging you to get your hands on a 2022 Civic as soon as possible, you can already find Honda Civic lease deals for the sedan in dealerships. The hatchback is due for release later in 2021.
Engine and Performance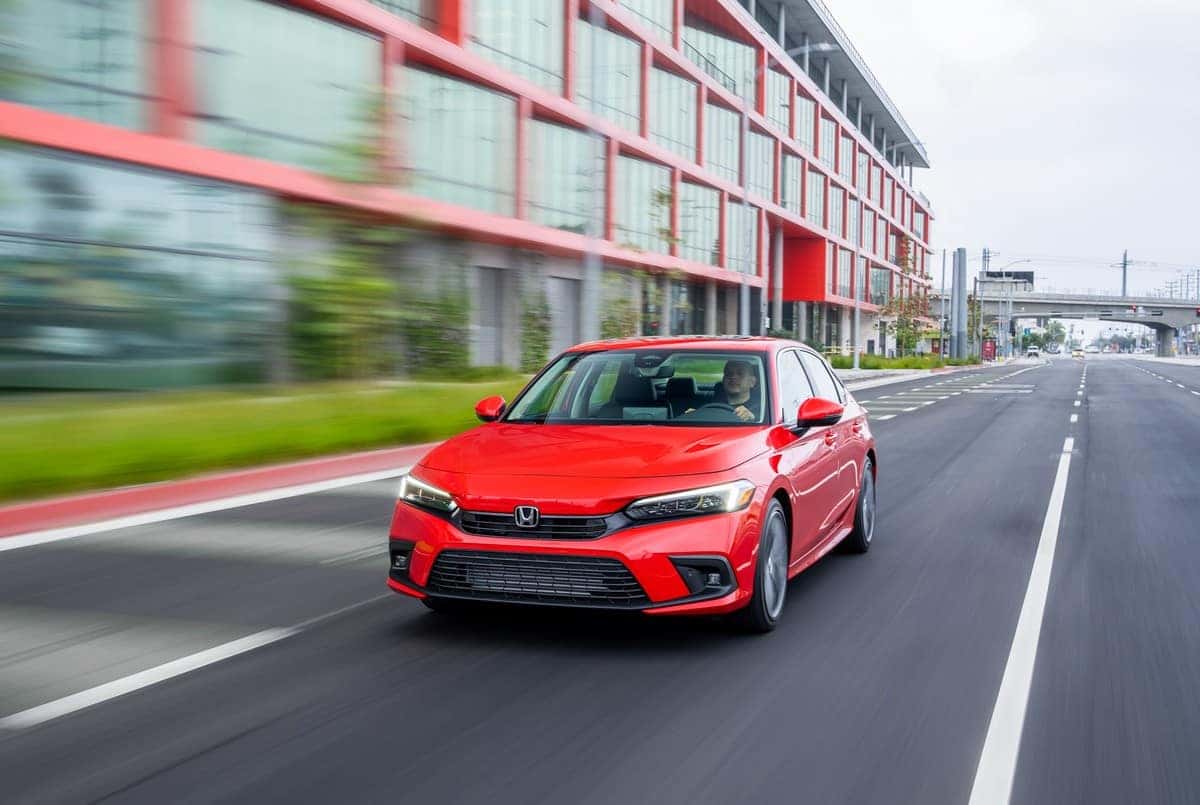 Image via Honda Press Kit 
Honda has decided to retain the power train options from the last generation Civic in its redesigned compact car, which is available in sedan and hatchback body styles. The base engine for the 2022 Civic is a 2.0-liter V-4 that puts out 158 horsepower. If you're looking for more acceleration, you can opt for a turbocharged 1.5-liter V-4 that can crank out 180 horsepower. A continually variable transmission is available throughout the lineup, while the hatchback has an optional six-speed manual transmission.
You can choose from three driving modes in the Civic: sport, eco, and normal. The sport mode increases engine revolutions at certain speeds to produce a punchier response from under the hood. The eco mode adjusts the engine to conserve fuel, while the normal mode keeps the engine operating at its standard pace.
The Civic's fuel efficiency continues to be one of its strong points. It can achieve up to 33 mpg in the city and 42 mpg on the highway, which gives it a combined gas mileage rating of 36 mpg. This marks a slight improvement on gas mileage in the 2021 Civic.
Trim Levels
In addition to the standard Civic, Honda offers the Civic Ci and Civic Type R, which are designed with a sporty style and high performance in mind. These latter two options are expected to be ready for release sometime in 2022.
Both the Civic sedan and Civic hatchback are available in four trims. The sedans trims are LX, Sport, EX, and touring, while the hatchback's are LX, Sport, EX-L, and Sport touring. Among both body styles, the first two trims are equipped with the base engine, while the top two trims get the more powerful turbocharged unit.
If you're looking for competitive Honda Civic offers, you'll be happy to learn that the starting price for the base sedan trim is an affordable $21,700. Add a bit more for the Sport trim and you gain access to paddle shifters, an eight-speaker stereo, and alloy wheels. Meanwhile, the EX trim is slightly more expensive but it also equipped with a more powerful engine. It also features heated front seats, a split folding rear seat, and heated mirrors. Finally, the top-of-the-line Touring trim comes with  leather upholstery, a 12-speaker premium stereo, power adjustable front seats, and a navigation system.
Seating and Cargo
There's room for five people to sit in the Civic sedan and hatchback. The front seats have been redesigned for the 2022 model to offer more support and comfort. In the second row, there's a touch more legroom available in the hatchback compared to the previous generation.
In the sedan, you'll find 14.8 cubic feet of storage in the trunk. The lower trims have a folding second row of seats, while the higher trims have a 60-40 split folding seat. Specific cargo storage measurements aren't available for the hatchback yet, but the previous generation provided around 20 cubic feet of storage at the rear.
Infotainment and Technology
The Civic's standard 7-inch infotainment touch screen is the first time that Honda has offered a standard touch screen with its popular compact car. You can also take advantage of a wide range of connectivity options, including Apple CarPlay and Android Auto, Bluetooth connectivity, and a USB port. The base infotainment setup also includes a four-speaker stereo.
In the range-topping Touring trim, you gain access to a larger 9-inch infotainment screen. This also allows you to benefit from the Civic's navigation system and satellite radio. Other optional entertainment upgrades include wireless device charging, USB ports in the rear row, and a 12-speaker premium stereo.
The all-new Civic boasts a long list of standard driver safety features. Forward collision warning lets you know that a vehicle or other obstacle is approaching by giving you audio and visual alerts, and automatic emergency braking will apply the brakes to help you avoid a collision. Useful assistance features for highway driving include adaptive cruise control, lane departure warning, and lane-keep assist.
A handful of driver assistance upgrades are available, including rain-sensing windshield wipers and blind-spot monitoring. Front and rear parking sensors, which can prove useful if you're maneuvering in and out of a tight spot, are also on offer as an optional add-on.
Now that you know a little more about what the all-new 2022 Honda Civic has to offer, why not check out what we have to offer in our Honda inventory? Here at Ike Honda in Marion, we offer you a one-stop shop for Honda cars, whether you're looking for a compact Civic or a larger SUV. We have 2022 Civic sedans available for purchase today. Alternatively, you can contact us to be kept up to date about when the all-new Civic hatchback is expected to arrive.