What kind of trucks does Honda make?
Honda has a reputation for building reliable and affordable vehicles. Therefore, when people are in the market for a new truck, they often wonder what sort of options Honda has available. They might ask "Does Honda make a full-size truck?" or "Does Honda have a truck that is good for families?" If you're wondering what kind of Honda truck you can get, below we'll provide you with all the information you need to know before your next purchase.
The Honda Ridgeline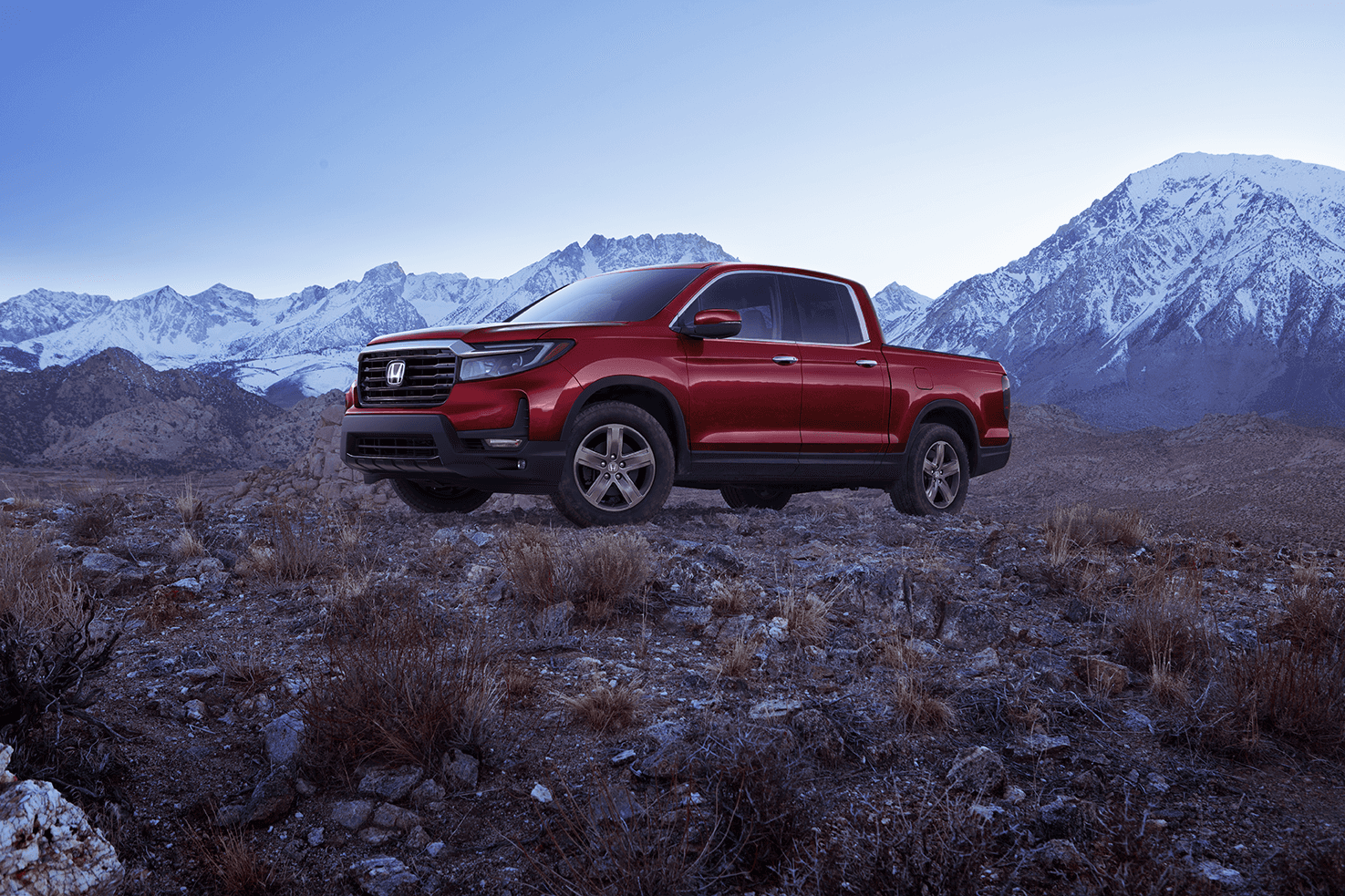 Honda's sole truck offering is the Honda Ridgeline. However, just because it's the only option doesn't mean it isn't a great one. There's a lot to love about the Honda Ridgeline, no matter what sort of truck you are looking for. With the Ridgeline, you're getting a pickup truck that offers a more spacious cabin than many of its competitors. Under the hood, you'll find a V6 engine that produces 280 horsepower and 262 pound-feet of torque. This is often powerful enough for the average truck owner.
Another important quality of the Honda Ridgeline is its coil-sprung rear independent suspension. This helps the driving experience feel more like that of a car and more enjoyable than some of its biggest competitors. There's also a nine-speed automatic transmission and standard all-wheel drive, which make this truck great in practically all driving conditions. Finally, the Honda Ridgeline is one of the most fuel-efficient trucks in its class, coming in at 18 mpg in the city and 24 mpg on the highway.
Honda Ridgeline Towing, Hauling and Storage Capabilities
An important aspect of any truck is its ability to haul things around. With the Honda Ridgeline, you'll have the ability to tow up to 5000 pounds. This is often enough for a small trailer or boat, but you should consider your own hauling needs before deciding if the Ridgeline is for you. Another benefit of the Ridgeline is its storage capabilities. The bed is designed in a way to store more compared to some of its competitors. For example, with 50 inches between its wheel wells, the Ridgeline is the only mid-size truck that can fit a 4-by-8 sheet of building material flat on the bed floor. Finally, the rear seats can fold down, providing you with even more storage capabilities on the inside of the truck.
Honda Ridgeline Key Interior Features
The benefits of the Honda Ridgeline don't stop with its performance features. Some of the best features are noticeable once you get inside the truck and turn it on. For example, there are comfortable seats that are made of premium cloth that also come with folding armrests. Then, there's the 8-inch touchscreen infotainment center that comes standard on all Ridgelines. With this center console, you can easily control your media and adjust the settings in your truck. It also seamlessly connects with Apple and Android devices, allowing for even more functionality.
Other important interior features come in the form of safety technology. Some safety features you can expect to find in the Honda Ridgeline include forward collision warning, automatic emergency braking, lane departure warning, lane keeping assist and adaptive cruise control. These features, combined with many others, are the biggest reasons why the Honda Ridgeline received a five-star rating from the National Highway Traffic Safety Administration.
Honda's Plans for Future Trucks
As of now, Honda isn't planning on offering any other trucks besides the Ridgeline. The primary reason for this is that, like other car manufacturers, Honda is still dealing with the aftermath of the pandemic. Instead of focusing on releasing a new vehicle now, Honda is instead going to focus on improving their current offerings.
One obvious example of this is the new version of the Honda Passport, the TrailSport. Some of the changes to the Passport in the TrailSport are simply cosmetic, such as a new front grille and new bumpers. Other changes make this vehicle more of an option if you want to go off-roading. For example, this version is a little wider, making it more stable when you're on rougher roads. It also comes with improved tires and a better traction management system, all which combine for an improved ability to go off-road. If you're looking for something that you can go off the beaten path with, and you don't have a pickup truck, consider getting the 2022 Honda Passport TrailSport.
Learn More About Honda Trucks at Ike Honda
As you can see, there's a lot to love about the Honda Ridgeline for the average truck buyer. To determine if it's right for you, you should ask yourself a few questions, such as:
How much towing capacity do I need?
Do I need to go off-roading frequently?
How big of a truck bed do I need?
How many seats do I need?
How much can I afford?
If you need some help answering these questions, Ike Honda is here to help. We can answer all your questions about the Honda Ridgeline and help you determine if this is the right vehicle for you. When you visit Ike Honda, we'll set you up with a test drive so that you can experience all of the benefits of the Ridgeline for yourself. We'll then discuss financing and leasing options with you to help you determine if this truck fits within your budget. Meeting with our sales staff and going for a test drive is often the best way to see if a truck is the right fit for your needs.
To get started, browse through our current inventory of Honda trucks for sale. Or, if you're interested in some other kind of vehicle, be sure to explore our current inventory of new vehicles or pre-owned vehicles. Once you see something you like, or if you want to browse in person, contact us today to set up a time to visit our dealership. We'd be happy to set you up with a test drive for any vehicle that interests you and answer any questions you may have.