What Makes the Honda Civic So Reliable?
Reliability is a critical factor when you're shopping for a new car. You don't want to purchase a short-lived vehicle that has a high probability of leaving you stranded or emptying your bank account with its repair needs. A reliable car is one that's built to last. These vehicles have low repair costs, require fewer trips to the shop, and tend to last not years, but decades. Whether you go on to trade your car in for a newer model or you pass it down to your child when they start driving, longevity is an extremely valuable feature.
The Honda Civic is one of the most reliable cars in its class with consistently high ratings and outstanding features. Learn more about Honda's impressive rankings and the Civic's award-winning history.
Honda: A Legacy of Reliability
Honda began as a Japanese motorcycle company, first incorporated in 1948. The American Honda Motor Company was established in 1959. Honda began producing motorcycles in the United States in 1979 and expanded to produce automobiles in 1982. Over subsequent decades, Honda has established itself as one of the most reliable automakers in the world.
Between 2010 and 2020, Honda received more awards from U.S. News & World Report than any other brand. Among its 63 awards over the decade, Honda has honors for Best Cars for the Money, Best Cars for Families, Best Cars for Teens, and Best SUV Brand. In 2019, Kelley Blue Book recognized Honda as the Most Awarded Brand. Honda ranked first for resale value and reliability. Kelley Blue Book's 10 Most Awarded Cars of 2019 included four Honda models with the Civic, Accord, CR-V, and Odyssey included on the list.
In 2020, Kelley Blue Book recognized Honda as the Best Value Brand. This award is based upon key attributes that appeal to customers including reliability, durability, quality, and resale value. This study goes directly to the shoppers and evaluates what they care about most in a vehicle.
It's clear from the company's history that the Honda Civic isn't a dark horse surprising drivers with its reliability. This vehicle is a pure-bred champion coming from a long line of award-winning vehicles.
The Award-Winning Honda Civic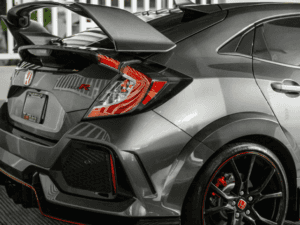 Image via Unsplash by @perladlsantos
There's no denying the appeal of a great car. In 2019, IHS Markit analyzed almost 17.5 million new vehicle registrations and found that the Honda Civic had the highest Model Loyalty in the Car segment. This model had the greatest percentage of owners who purchased or leased the same brand. Once drivers slip behind the wheel of a Civic, it's extremely likely that they'll want to stay there.
Civics have long been recognized as desirable vehicles. The 2019 Honda Civic was named Kelley Blue Book's Best Buy of the Year for the fifth consecutive year, due in large part to its resale value and reliability. In the 2019 Edmunds Buyers Most Wanted Awards, the Civic won the Compact Car segment.
In the Cars.com 2020 Compact Sedan Challenge, the Honda Civic faced off with the Nissan Sentra and Toyota Corolla. Contestants were rated in 17 categories including ride quality, handling, braking, safety features, and driver-assisted technology. The Honda Civic was a clear winner with a score of 220 compared to the Sentra's 213 and the Corolla's 185.
Honda Civic Reliability
Vehicles with outstanding reliability are more affordable to maintain and generally enjoy longer lives. If you take a look at used car lots, you'll find plenty of older Honda Civics that are still in great condition. On average, just 1% of cars manufactured each year will last more than 200,000 miles. However, 2.3% of Honda Civic models sold in 2019 had more than 200,000 miles on the odometer. With proper care and maintenance, a Civic can reasonably last 300,000 miles or more.
Honda is known for its dedication to research and innovation. While Toyota maintains its reliability by slowing innovation and providing few upgrades between model years, Honda takes a different approach. Honda uses root cause analysis to address any issues that occur. This means that the automaker dives deep to get to the root of the underlying problem so they can provide a preventative approach to vehicle issues rather than a reactive one.
In the few cases where Honda Civic models presented with problems, these issues were addressed promptly and thoroughly resolved among the models that you see today. Despite some issues that the 2001 and 2006 Civic models faced, the 2019 came out as one of the best compact cars available in the U.S.
Repair Costs for the Honda Civic
As with any vehicle, the Honda Civic will need occasional maintenance and repairs. However, as one of the most reliable options on the market, you'll find that this model costs less to maintain and requires fewer trips to the shop when driven responsibly.
The average maintenance and repair cost for a compact car is $526, but the average annual expense for a Honda Civic is just $368. If that difference doesn't seem impressive enough, consider the cost savings over the life of the vehicle. Driving an average of 13,500 miles a year, a Honda Civic can easily last for 15 years. Saving an average of $158 a year on repairs and maintenance, you'd ultimately spend about $2,370 less on this vehicle than on one with average expenses. Compared to an unreliable car, your savings only increase more.
The average compact car goes to the shop 0.3 times a year, but this decreases to 0.2 times a year for the Honda Civic. This means less time spent driving to and from the shop and waiting on service. The probability that you'll need a major repair on a Honda Civic is 10%, compared to 11% for the average compact car.
If you're searching for a Honda Civic, Ike Honda has several options for you to explore. Available as a hatchback, sedan, or coupe, the Civic has a style that can meet your needs. Contact us today to learn more about what's in stock and set up a time to come and test drive the reliable Honda Civic yourself.