2021 Honda Civic Trim Levels
If you're shopping for a compact car, the 2021 Honda Civic is one of the best options available on the market. This car is hugely popular because it excels in almost every department, from performance and fuel economy to comfort and safety. It also offers many trim choices to meet the needs and preferences of a wide range of buyers. Check out this detailed trim level comparison for the 2021 Honda Civic to make the right buying decision.
Overview of the 2021 Honda Civic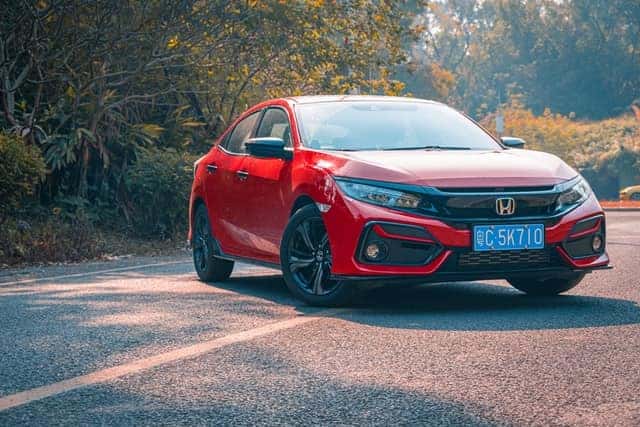 Image used with permission via Unsplash by alonly
The 2021 Honda Civic is an exceptionally well-made car that's hard to fault. It also provides excellent value for money with its competitive pricing. Take a look at this department-by-department description of the 2021 Honda Civic to understand why it's one of the most dominant entries in the crowded compact car segment:
Exterior
On the outside, the new Honda Civic features a slick and stylish design that befits its sporty nature. The sedan version has a long nose and short tail that create an appearance of forward thrust. It looks sleek and aggressive with its low-slung stance, plunging hood, slanted headlamps, and arched roof-line.
The Honda Civic hatchback is somewhat similar to the sedan in terms of body shape, but it has a bolder rear end with a more pronounced spoiler, larger vents, and prominent dual center exhaust tips. The sedan, on the other hand, features a simpler trunk lid with a subtle ducktail and well-hidden exhaust pipes.
Performance
The standard engine of the 2021 Honda Civic is a 2.0-liter four-cylinder that produces 158 horsepower, which is more than enough for daily driving. If you want a more energetic driving experience, opt for the available 1.5-liter turbo four that generates 174 horsepower. Both engines work with either a continuously variable transmission or a six-speed manual transmission.
When it comes to handling, the Honda Civic provides the perfect blend of comfort and athleticism. It delivers a smooth and serene ride with its composed demeanor and excellent ability to absorb uneven surfaces. It's also more fun to drive than most of its rivals, thanks to its lively handling and great agility.
Fuel Efficiency
The Honda Civic has some of the best fuel economy ratings in its class. When equipped with the base engine, the sedan version returns 32/42 mpg (city/highway), while the hatchback manages 31/40 mpg. The turbo-four engine is rated at 35 mpg combined in both body styles. Getting a model with the manual transmission reduces fuel efficiency by 1 mpg.
Interior
The 2021 Honda Civic can accommodate up to five people. The car has wide door openings that make it easy to enter and exit and offers a generous amount of legroom for both front and rear occupants. Its seats are well-cushioned and provide adequate support during long drives. The cabin of the Civic is replete with high-end materials and soft-touch surfaces and provides great outward visibility in every direction.
Cargo Space
Another appealing aspect of the Honda Civic is its spacious cargo area. The sedan offers about 15 cubic feet of trunk space, while the hatchback gives you 25.7 cubic feet of storage space behind the rear seats and 46.2 cubic feet behind the front seats.
Safety
The National Highway Traffic Safety Administration awarded the 2021 Honda Civic the highest rating of five stars for overall crash safety. The car also received the best possible overall rating of "good" from the Insurance Institute for Highway Safety.
Trim Levels of the 2021 Honda Civic
The sedan version of the 2021 Honda Civic is available in five trim levels: the base LX, Sport, EX, EX-L, and the top-of-the-line Touring. The hatchback, on the other hand, comes in four trims, including the LX, Sport, EX, and Sport Touring. Below is a comparison of the Honda Civic trim levels:
LX
The LX sedan has a starting price of $21,250, while the hatchback costs at least $22,200. This trim comes standard with cloth upholstery, automatic climate control, an infotainment system with a 5-inch display, a four-speaker sound system, a USB port, and Bluetooth. Additionally, it offers standard active safety features such as automatic emergency braking, forward-collision alert, collision-mitigation braking, automatic high-beams, lane-departure alert, road-departure mitigation, lane-keeping assistance, and adaptive cruise control.
The sedan LX and the Sport are equipped with the base 2.0-liter four-cylinder engine. In the hatchback version, these two trims get the 1.5-liter turbo-four.
Sport
Starting at $23,050 for a sedan model and $23,300 for a hatchback, the Sport offers all of the standard features of the LX, plus proximity keyless entry, push-button start, a leather-wrapped steering wheel, an upgraded infotainment system with a 7-inch touch-screen display, an additional USB port, an eight-speaker sound system, Android Auto, and Apple CarPlay.
The hatchback Sport and Sport Touring come standard with a six-speed manual transmission and offer the continuously variable transmission as an option. Also, the turbo-four engine produces an additional 6 horsepower on these two models, bringing the total to 180 horsepower.
EX
The EX sets you back at least $24,400 as a sedan or $24,700 as a hatchback. This trim adds an eight-way power driver's seat, heated front seats, dual-zone automatic climate control, a moon-roof, remote start, HD radio, satellite radio, and blind-spot detection. The EX, EX-L, and Touring sedans are fitted with the turbo-four engine.
EX-L
With a starting price of $25,600, the sedan-only EX-L gains leather-trimmed upholstery and an auto-dimming rearview mirror.
Touring and Sport Touring
The Touring comes with a minimum price of $28,300, while the Sport Touring starts at $28,600. Both models feature a four-way power front-passenger seat, heated outboard rear seats, navigation, and rain-sensing windshield wipers. In addition, the sedan is fitted with a 10-speaker audio system, whereas the hatchback has 12 speakers.
The best way to find out which trim level of the 2021 Honda Civic is most suitable for you is to stop by Ike Honda for a test drive. Regardless of which body style or trim you want to buy, you can find it at our dealership. Contact us today to schedule an appointment.