Honda enhances human-centric design with "Simplicity and Something" interior
Honda recently announced a new philosophy when it comes to its interior designs: They named this new design philosophy "simplicity and something," and it is going to drastically change how the inside of different Honda models look. Honda has a few goals in mind for this new approach and judging by the first looks at this year's vehicles, they're achieving those goals. Below, we'll outline some of the key aspects of this new design philosophy from Honda and how you can expect it to impact the flagship models you've come to love.
Reducing Clutter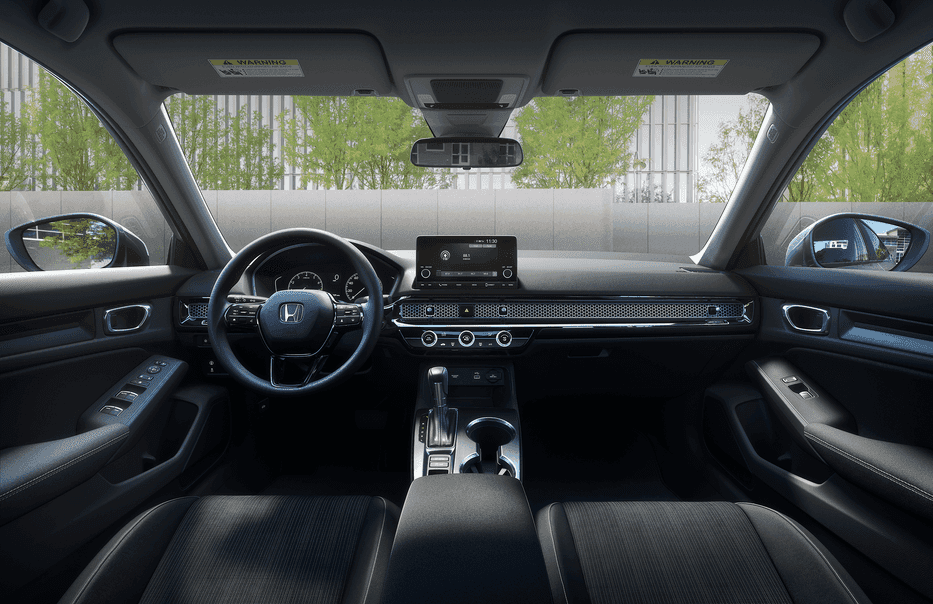 Perhaps the biggest goal of the "simplicity and something" philosophy is to reduce complexity in the front of the car, which isn't an easy thing to accomplish when you consider that vehicles are becoming more high-tech each year. As manufacturers have added features to their vehicles, center consoles have become cluttered. This not only lessens the visual appeal, but it makes everything harder to use.
With this new approach, Honda attempts to keep all the features you love while making everything look less busy. They do this in a few ways, such as thinner pillars, lower cowls, and larger greenhouses. Other examples include a tin-rimmed steering wheel and an unbroken strip of honeycomb grate that stretches across the dashboard that elegantly hides the air vents and adds to a sleeker design. Honda also reduced the number of digital instruments and better integrated its touchscreen.
All in all, it now looks like Honda vehicles were designed with all the modern features in mind, rather than adding these features to existing interior designs. The result is a much cleaner look that doesn't sacrifice functionality.
Maximizing Space
In addition to overhauling the center console and dashboard, Honda also sought to make the inside roomier for the driver and passengers. They adopted what's called a "Man Maximum / Machine Minimum" approach, which aims to maximize cabin space and minimize the space that's needed for mechanical components. This means that cars like the Honda Civic and Honda Ridgeline can remain largely unchanged in terms of overall size while still promising a comfortable interior experience.
What models will feature the Simplicity and Something interior design?
You can expect to see Honda's new design philosophy in all of its newest models, including the Civic, Honda Accord, CR-V, Passport, and Ridgeline. Not only will each of these models receive an interior upgrade, but each model will also receive its own unique changes.
These original features, such as knurled knobs, will help to differentiate one model from another and will provide a positive emotional response from drivers and passengers alike. Honda hopes that making these models more enjoyable on the inside will make driving your Honda a fun experience that you can look forward to for many years to come.
Honda has released different models throughout the year, and many of your favorites are already on sale. For example, the 2022 Honda Civic and the 2022 Honda CR-V hit dealerships over the summer, and the 2022 Honda Ridgeline went on sale on September 24, making it the more recent vehicle available. If you're holding out for the 2022 Honda Accord, your wait will come to an end sometime this fall.
The 2022 Honda Civic – A First Look
The 2022 Honda Civic was the first model released by Honda this year and as such gave us the first and best look at the new interior design. In addition to the interior upgrades mentioned above, the 2022 Honda Civic received other new upgrades. For example, the standard infotainment center is now a 7-inch touchscreen, which is up from the 5-inch screen in previous models. This new touchscreen is bigger, and thanks to the interior design remodel, it looks more suitable inside the Civic. If you choose to, you can also upgrade an even larger 9-inch display in Touring trim.
The interior design of the 2022 Honda Civic has been significantly improved over the 2021 model. It not only feels more spacious, but small changes like easier-to-reach cup holders make a noticeable difference. When it's all said and done, the 2022 Honda Civic is the clear winner in terms of both style and functionality.
How to see the latest Honda interior designs
Honda intends to not only implement its new design philosophy on this year's models but on future models as well. As of now, all forthcoming Hondas will use this design philosophy, which means that these newest models mark the beginning of a new era of Hondas. This is, without a doubt, a good thing, because these new design elements are such a significant upgrade over previous models.
However, looking at pictures or reading about the new interior designs for Honda vehicles doesn't quite do these changes justice. To gain a true sense of how fabulous these vehicles look, you really need to see them in person. When you take a new 2022 Honda Civic or 2022 Honda CR-V out for a test drive, you'll not only be able to see the new dashboard design up close and personal, but you'll experience how roomy it is inside, and you'll also be able to try out different features like the infotainment center, and decide for yourself how much more enjoyable your driving experience is.
Contact Ike Honda today or schedule a test drive online to see one or more of these new Hondas! We'd be thrilled to see you behind the wheel and we look forward to walking you through the different features of the newest Honda models. There's so much to love about each of these models, and we're confident that once you get the feel for one of these newly redesigned vehicles, you'll decide to make it your next car or SUV. Schedule a visit to our dealership today or start browsing our online inventory to get started!